2018 • 49' • French, English & Neutral Spanish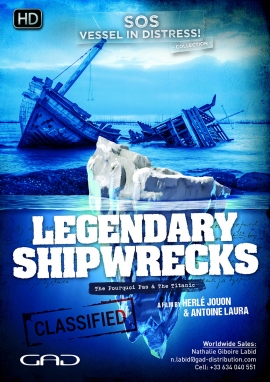 Director(s): Herlé Jouon & Antoine Laura • Producer(s): Grand Angle Productions • Coproducer(s): RMC Découverte • Country of production: France • Format(s): HD
Whatever the circumstances, the place where they happen or the toll, all shipwrecks are tragic. However, some, for many reasons, go down in history and become veritable legends.
In April 1912, while on its maiden voyage, the RMS Titanic hits an iceberg. Two hours and forty minutes later, the biggest and most luxurious liner of its age sinks.
In 1936, twenty-four years after the sinking of the Titanic, another ship enters the world of legend when it sinks just a few hundred yards from the coast of Iceland. It was the "Pourquoi Pas" and on board is its famous captain: the French explorer Jean-Baptiste Charcot.
Titanic in 1912, Pourquoi Pas in 1936… a look back on two shipwrecks that have carved their names for all time in the list of the most famous tragedies in maritime history.
Please register to screen the entire program and add it to your collection