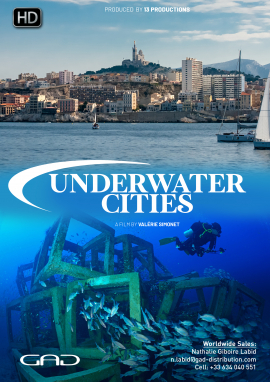 Director(s): Valérie Simonet • Producer(s): 13 Productions • Country of production: France • Format(s): HD
Who is aware that just tens of feet beyond Marseille's beaches, there is an underwater city for fish?
In 2007, the largest artificial reefs in Europe was submerged to a depth of 100 feet between the Château d'If and the Prado beach. Today, these reefs form an immense underwater city, equivalent in area to 200 sport stadiums. They mimic steel and concrete buildings, pavilions, streets and dead ends…
Their ambition: to recreate habitats conducive to the rebirth of marine life in a site damaged by urban and seaside development. A decade later, scientific monitoring carried out around the project shows that it has worked.
On the water beneath the surface, the Underwater Cities leads us to the discovery of an unsuspected world.
Please register to screen the entire program and add it to your collection