A vineyard to vie with nature (New Zeland)
2016 • 26' • French & English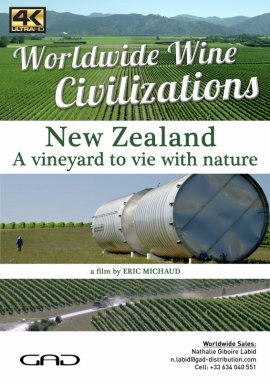 Director(s): Eric Michaud • Producer(s): Grand Angle Productions • Coproducer(s): ARTE • Format(s): HD • Codec: ProresHQ 4444 / .mov (50i, 4k 3840*2160p, interlaced)
Far away, alone at the end of the world, an archipelago lies between the Tasman Sea and the Pacific Ocean: New Zealand.
For 40 years, on the South Island, in the major wine-growing region of Marlborough, new pioneers have pulled off the daring gamble of growing vines.
With nearly 17,000 hectares it is the largest wine-growing region in the country. Making wine in New Zealand means taking on a nature that is untamed and one that humans find hard to rival. And yet they succeed despite the problems of climate, the earthquakes and the ever-invading wild life.
Please register to screen the entire program and add it to your collection