2016 • 58' • Live Concert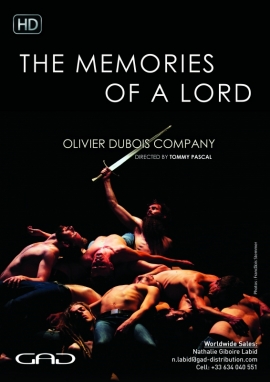 Director(s): Tommy Pascal • Producer(s): Les Films Jack Febus - Ballet du Nord - Olivier Dubois - Centre Chorégraphique National Roubaix Hauts de France Nord-Pas de Calais Picardie • Coproducer(s): Arte Concert & M_Media • Format(s): HD
The Memories of a Lord is the latest creation by Olivier Dubois, the enfant terrible of French choreography.
Nominated among the 25 best in the world, in 2007 Olivier Dubois received the jury special prize from the Critics Union for his career as performer and his piece "Tout l'or du monde" (All the Money in the World) then the Jardin d'Europe prize for "Faune(s). In these pieces he questions what creates humanity in people.
Here, the artist focusses on the loneliness of the great of this world, calling up characters such as Caligula, Alexander the Great or Genghis Khan. All these characters are represented by the dancer Sébastien Perrault, who takes the role of soloist. Around him are forty amateurs, of various ages and body types. These anonymous figures form a mass, a swarm. They give the impression of a living-background that transforms into a forest, a tower or a battle field as the tableaux change.
Since 204, Olivier Dubois has been director of the CCN in Roubaix, Nord Pas-de-Calais.
Soloist
Sébastien PERRAULT
Company
ARAUJO Victor, BAMOU Habib, BAYAND Roman, BOYER Vianney, BRIHAT Jean Christophe, CATHERINE Charles, CECILLE Tristan, CHALLET Julien, COLTRO Fabrice, DA SILVA Paulo, DEPACHTERE Fréderic, DERVAUX Julien, DI BELLA David, FAVRE Etienne, GAUTIER Antoine, GIBERT Arnaud, GUY Arnaud, JEANNET Leo, KERN Hervé, LE FLOCH Patrice, LEBIHAN Laurent, LECHAT Ludovic, LEDOUX Alain, LELIAS Yvon, LESIMPLE Baptiste, LEYNAUD Julien, MAS Franck, MICHEL Xavier, MOULIN Blaise, NACINOVIC Patrick, PAVSIC Eric, PETIT David, PICHET Frédéric, POP Daniel, ROBERT Paul, ROGAUME Julien, SALOMON Romain, SEGURA Marlon, TREHEL Nicolas, TURPIN Denis, VICH Manuel, WISSAM Ismail.
Please register to screen the entire program and add it to your collection