Work Boats and Wonder Ships
2009-2010 • 5x52' • French & English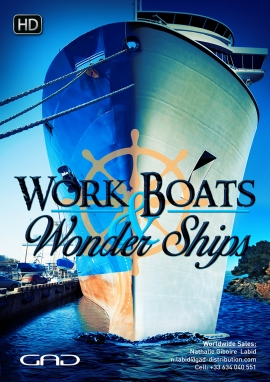 Watch the episodes
Director(s): Herlé Jouon • Producer(s): Grand Angle Productions • Coproducer(s): Planète Thalassa, Motors TV • Format(s): HD
Treat yourself to an unforgettable voyage in the four corners of the globe, come wind or waves, plowing the heavenly-blue seas.
As a highly privileged passenger, climb aboard some unique vessels, as mysterious as they are majestic, and ready to reveal their secrets. Stride the bridge of the QE2, that mythical cruise ship, and then that of the incredible Maltese Falcon, the sailboat with the futuristic lines. Discover your reserved cabin aboard the most luxurious yachts on the planet and wallow in the limitless luxury of these jewels of modernity. Plunge back into history and rub shoulders with kings deep in the Savarona, a floating gem transformed over the years by successive owners.
Share the daily lives of some exceptional crews and meet the men who brave the icy, sublime waters of Canada. Join them on their awesome mission aboard the Waban Aki, a Canadian Coast Guard Hovercraft responsible for clearing ice from the St Lawrence River. Or step aboard the Abeille Bourbon and shiver side-by-side with its crewmembers as they confront the fickle moods of the Brittany coast. Or yet again, on the Blue Marlin in Korea as it transports its gigantic oil platforms.
High excitement, glistening powerful treasures, these giants of the seas along with their crews invite you to discover the most mysterious surface of the globe. One thing is sure: your feet won't touch the ground…
Please register to screen the entire program and add it to your collection