Naïs in the land of wolves
2021 • 53' • French & English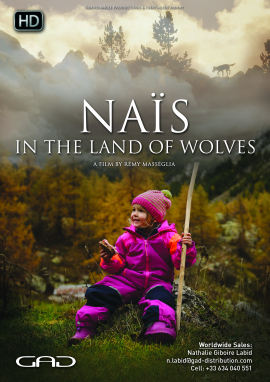 Director(s): Rémy Masseglia • Producer(s): Grand Angle Productions & Chrysalide • Coproducer(s): France Télévisions • Country of production: France • Format(s): HD
Ready for an unique adventure into the heart of the wildest national park in France?
Embark on an unforgettable journey with a father and his one-year-old baby girl who have spent more than two years in the wilderness.
Get as close as possible to the fauna and cross the path of the most elusive of all animals.... the wolf!
We are proud to announce "Naïs in the land of wolves" got:
"Grand Prix" at the International Adventure Film Festival in Paris
"Audience Award" at the FIFMA - Festival International du Film de Montagne d'Autrans
"Hérisson d'Or - Nature Category" at the Festival du Cinéma Nature & Environnement in Grenoble
"Coup de Cœur du Jury" at the Rencontres de la Cinémathèque de Gap
"Environment" prize at the International Adventure Film and Book Festival
"Knowledge and Protection of Nature" Award at the International Ornithological Film Festival in Ménigoute
"Script Prize" at the International Festival Namur Nature
Prize "Man and Nature" at the International Nature Festival in Namur
"Ushuaïa TV Prize" at the International Adventure Film Festival of Montpellier
"Coup de cœur de la Fondation François Bel" at Les RDV de l'Aventure
"Best Documentary" at the Golden Bee International Children's Film Festival
Please register to screen the entire program and add it to your collection