2020 • 52' • English & French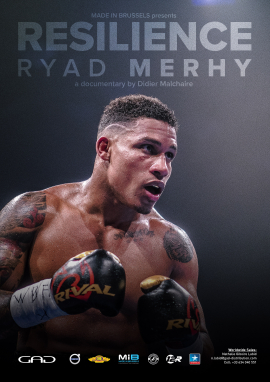 Director(s): Didier Malchaire • Producer(s): Made in Brussels • Coproducer(s): Zabriskie Films sprl • Country of production: Belgium • Format(s): HD
Resilience: the great adventure of a man determined to transform his private and professional obstacles into life force.
The documentary presents the daily fight of Ryad Merhy whose elegance of his sportsmanship will make him the most prominent Belgian boxer of the moment.
Born to an absent Lebanese father and a loving Ivorian mother, the child Ryad had a somewhat rowdy childhood with his ups and downs, before discovering boxing which would lead him to channel the fierceness of his youth.
The young sportsman showed excellent skills in the ring early on.
Thanks to his determination combined with a true ethics in his combat discipline, Ryad Merhy makes his life an exemplary work.
Quickly, he aligns the victories.
Undefeated during sixteen professional fights, he then set out to conquer international titles.
The titles follow one another.
He takes the WBC International Silver belt and the WBA Intercontinental belt, which he will defend three times before he plans to compete in the WBA World Championship on March 24, 2018 in Marseille.
And it is there that for the first time in his career he loses a fight.
Stupor.
Ryad is overcome with doubt, crossed by contradictory feelings.
But that is without counting on his determination, this fierce desire to escape fate.
For fifty-two minutes, the documentary will testify to the rise of a high-level sportsman.
He will also introduce us to the man behind the boxer.
A humble and resilient man, who was able to resist the obstacles of life, both private and professional.
Although boxing is the vector of this film, it is only an excuse to tell about surpassing oneself.
Ryad Merhy, world champion.
Please register to screen the entire program and add it to your collection