2015 • 46' • French & English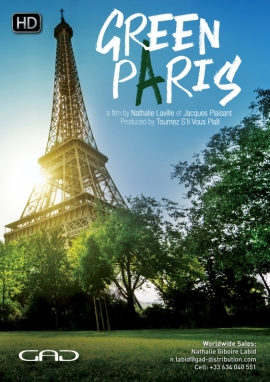 Director(s): Nathalie Laville & Jacques Plaisant • Producer(s): Tournez S'il Vous Plaît • Coproducer(s): France Télévisions • Format(s): HD
A big vegetable garden at the foot of the Eiffel tower, a nature zone where once there were train tracks, a primary forest and a savannah in Vincennes and in Boulogne's woods architecture and plants blend perfectly. Paris reveals its surprising green areas.
This path of discovery is full of surprises.
Who would have thought it possible to grow lettuce on rooftops in Paris's chic neighborhoods? Yet this is one of the harvests from the garden of a prestige hotel next to the Eiffel Tower.
This garden is highly domesticated, unlike the wild environment created on the former train line circling Paris with its wild fig trees and small wildlife.
This biodiversity is a treasure. Natural environments have also been developed to the East, in the Vincennes Woods, for example this primary forest born after a great storm hit. And there is this wild savannah, which was been planted by the Vincenne Zoological Park's landscape design staff.
Our adventure comes to an end in the Boulogne Woods, in the Jardin d'acclimatation. Here wildlife marries perfectly with the new Foundation Louis Vuitton, designed by the architect Franck Gehry. The blend of plant life with the museum's glass facades is spectacular.
Please register to screen the entire program and add it to your collection