From ISS to Mars - space, the future of the earth?
2018 • 54' • French, English, Castillan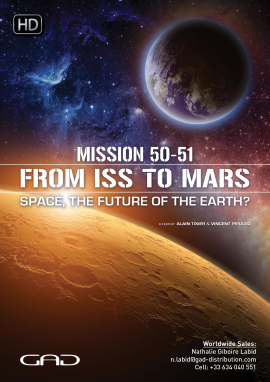 Director(s): Alain Tixier & Vincent Pérazio • Producer(s): Grand Angle Productions • Coproducer(s): ARTE, TV5 Monde • Format(s): HD
Hurtling at 28,000 km/h around the Earth aboard the ISS, Frenchman Thomas Pesquet, American Peggy Whitson and Russian Oleg Novitsky carry out experiments in association with laboratories all around the world on various solutions for preparing extended missions such as the one whose destination is Mars.
And the results are promising… with the adaptation of human physiology to microgravity, waste recycling in order to survive independently, the development of new materials, more efficient means of propulsion and robotics, Science demonstrates that the prospect of a mission to Mars, of life elsewhere for Humankind, is in process of becoming a reality…
Thanks to these missions and the work of scientists around the world, the brakes preventing us from flying for beyond a year at more than 400km from our atmosphere (the altitude of the ISS) will be removed with 20 years. Mars is now in the sights of the space agencies. And the red planet is in the minds of astronauts all over the world…
This program won the "Grand Prix" of the Lumexplore Film 2018 (scientific exploration international film Festival).
Please register to screen the entire program and add it to your collection