2022-2023 • 4x52' • French & English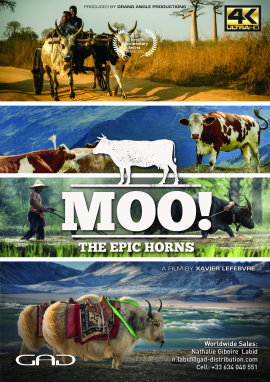 Watch the episodes
Director(s): Xavier Lefebvre • Producer(s): Grand Angle Productions • Coproducer(s): ARTE, TV5 Monde, RSI, Ushuaia TV • Format(s): 4K
At the dawn of time, their hoof prints mingle with those of Humans. Step after step, century after century, the great bovine family has accompanied humankind. As essential partners on our greatest territorial conquests, they continue to change the world at our side even today.
In the beginning, 18 million years ago, there lived a tiny, shy, forest-dwelling horned mammal. All alone, through the laws of evolution, this small antelope becomes the ancestor of the Aurochs, now extinct, which turned humans from the status of hunter-gatherers to that of breeders. Then the ox, yak, buffalo and zebu followed. These descendants are now pivotal elements in many cultures across the world. And against a background of species disappearing from the Earth, they are becoming the biggest land mammals.
From their wild forms to the multiple domestic breeds they produced, via the selective hand of humans, the bovines have thus gone side by side with our civilizations throughout our History. This series takes us along their trail.
EPISODES AND DESTINATIONS
The Zebu and the conquest of the desert: India, Brazil, Switzerland, Ethiopia
The Ox and the conquest of the plains: Turkey, Portugal, United States, France
The Buffalo and the conquest of the wetlands: Indonesia, Thailand, Brazil, Egypt
The Yak and the conquest of the summits: India, Switzerland
Please register to screen the entire program and add it to your collection