A journey into the heart of the Bordeaux vineyards: tradition meets modernity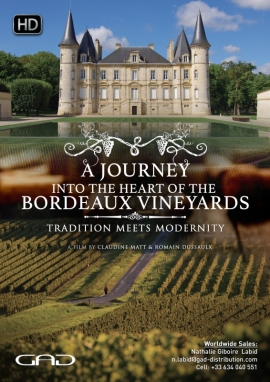 Director(s): Claudine Matt & Romain Dussaulx • Producer(s): Grand Angle Productions • Coproducer(s): France Télévisions • Format(s): HD
The Bordeaux vineyards are the very image of French good taste and life style and they export throughout the world. How was the reputation of this unique wine-producing area built up over the passage of time? Who are the men and women who embody the elite among wines, the famous grands crus classés? What are the issues that they have to face for the future?
To discover this world apart, this documentary sets out on a journey through time, from Eleanor of Aquitaine and her marriage, the moment when Bordeaux wines took wing across the seas, to the future where drones and satellites present a new face of the Bordeaux region.
The film also visits winegrowers in their châteaux.
And it is also a wondrous journey through the skies to reveal the most mythical châteaux of the Bordeaux region in the Médoc, the Graves and Saint-Emilion from a totally fresh angle.
Please register to screen the entire program and add it to your collection