Crete, the myth of the labyrinth (Greece)
2018 • 26' • French, English & Neutral Spanish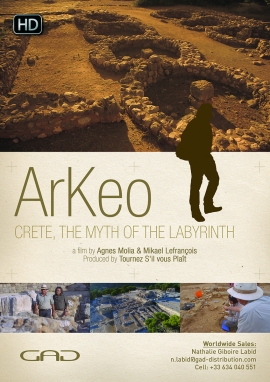 Director(s): Agnes Molia & Mikael Lefrançois • Producer(s): Tournez S'Il Vous Plait • Coproducer(s): ARTE • Format(s): HD
Between 3000 and 1400 BC, the Minoan civilization flourished in Crete, a large island located in the Mediterranean Sea. Particularly sophisticated for its time, the Minoans were the first great civilization of the Greek world.
Indeed, the Minoans were the first European civilization to use a written language. Long before the ancient Greeks - who were still a people of barbarian warriors - built the Parthenon, the Minoans demonstrated a high level of craftsmanship through the creation of greatly refined frescoes and sculptures. They built sumptuous buildings, whose monumental and complex architecture has long intrigued archaeologists.
A labyrinth sheltering a minotaur, royal palaces housing a tyrannical king… For a long time, the Greek myths served as the sole explanation for the architecture of these legendary edifices.
Yet thanks to meticulous archaeological excavations in the monuments of Knossos, Phaistos, and Sissi, combined with mathematical research, archaeologists have developed new ways to decipher the architecture of these buildings. The results of this archaeological project calls into question our initial interpretation of a civilization we thought we knew so well...
Arkeo - Crete, the myth of the labyrinth (Greece) won special mention at the Internationl Film Festival of Archeology 2018 "ICRONOS" and won "Best Archeological Film" at the Arkhaios Culturel Heritage and Archeology Film Festival 2018
Please register to screen the entire program and add it to your collection