Vineyards at the Desert's Door (Australia)
2016 • 26' • French & English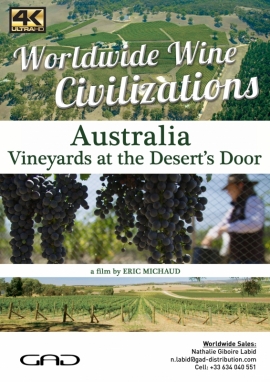 Director(s): Eric Michaud • Producer(s): Grand Angle Productions • Coproducer(s): ARTE • Format(s): 4K • Codec: ProresHQ 4444 / .mov (50i, 4k 3840*2160p, interlaced)
Standing defiantly against the encroaching desert, the Barossa vineyard forms a wide green belt to the north of Adelaide, capital of South Australia. It was here in this region in the 19th century that a tiny Germany colony was established.
From the 1920s the German community introduced the concept of biodynamics. A method of natural cultivation without chemical products that respects the balance of the soils.
There are many vineyards that still use this method enabling the vine to flourish in an arid environment.
Please register to screen the entire program and add it to your collection