Prosecco, another story of Venice (Italy)
2016 • 26' • French & English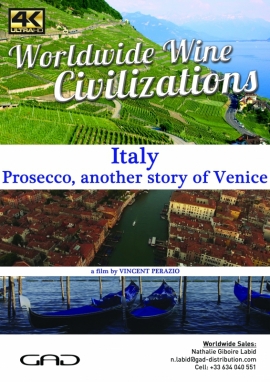 Director(s): Vincent Pérazio • Producer(s): Grand Angle Productions • Coproducer(s): ARTE • Format(s): 4K • Codec: ProresHQ 4444 / .mov (50i, 4k 3840*2160p, interlaced)
Some 50 miles north of Venice, between the towns of Conegliano and Valdobbidadene, the foothills of the Dolomites form the heart of the Prosecco.
A fine vineyard with steep slopes, the homeland of the wine that has conquered the world. Its huge commercial success is recent, almost instantaneous, but it is based upon a wine growing tradition that dates back for centuries.
Prosecco has become the emblem of a region that, for centuries, people have proudly called the "marca gioiosa", the joyful region. A name and a land that is written into the rich history of Venetian wine making.
Please register to screen the entire program and add it to your collection