A journey to the origins of the vine (Georgia)
2016 • 26' • French & English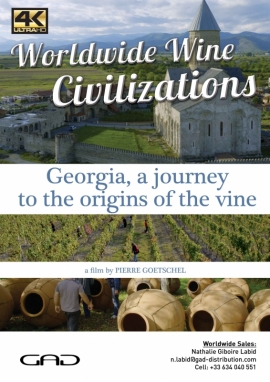 Director(s): Pierre Goetschel • Producer(s): Grand Angle Productions • Coproducer(s): ARTE • Format(s): 4K • Codec: ProresHQ 4444 / .mov (50i, 4k 3840*2160p, interlaced)
In Georgia they don't ask, "How are you?", but "How's your vine?". Here wine is sacred!
At the foot of the Greater Caucasus, Georgia has kept a thousands-of-years-old secret that it is trying to tell the world.
Vines and wine are said to have begun here more than six thousand years ago.
Ever since antiquity they have made wine here and they still store it in jars, known as "qvevris" buried under the ground.
Today this unique history and skill is trying to reemerge, in a land that has always lived from and for the vine.
Please register to screen the entire program and add it to your collection