The hidden treasures of Champagne (France)
2016 • 26' • English & French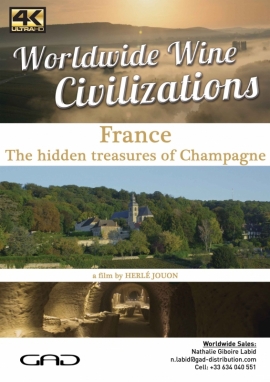 Director(s): Herlé Jouon • Producer(s): Grand Angle Productions • Coproducer(s): ARTE • Format(s): 4K • Codec: ProresHQ 4444 / .mov (50i, 4k 3840*2160p, interlaced)
The ultimate symbol of festivity and luxury, champagne was created more than two centuries ago in the East of France. We invite you to relive this epic winegrowing adventure by taking a unique journey through the most northerly vines and cellars of France.
We shall walk in the footsteps of a famous monk, Dom Perignon, who, according to legend, was the inventor of this sparkling wine.
We shall reveal the secret of the bubbles thanks to research carried out by a scientist passionate about the mysteries of this prestigious wine.
We shall also explore the bowels of the city of Reims to discover a veritable treasure trove: 300 kms of underground networks where more than one billion bottles of champagne are stored!
Please register to screen the entire program and add it to your collection