Alsace, a pact with nature (France)
2019 • 27' • English & French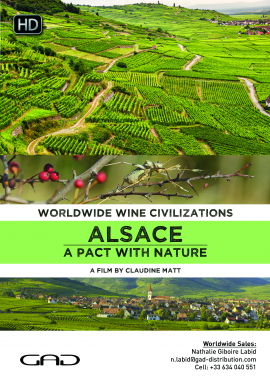 Director(s): Claudine Matt • Producer(s): Grand Angle Productions • Coproducer(s): ARTE, Viewcom • Country of production: France • Format(s): HD
Between the blue skyline over the Vosges mountains and the Black Forest, Alsace is situated like an island set between two continents, one Latin, the other, the Rhine. In Roman times vineyards naturally found their place here on the long and narrow hillsides that stretch for hundreds of miles.
This small protected territory has inherited landscapes, soils and a geology that is unique on the planet.
For almost a century, Alsatian winemakers have been preserving this natural treasure. Pioneers in organic and biodynamic farming before they became trends, the region's wine growers have long been aware that the future of their vineyards depends on respect for the environment.
Restoring natural biodiversity in the vineyards is a daily struggle here.
Please register to screen the entire program and add it to your collection