Tropical vineyards (Thailand)
2019 • 27' • English & French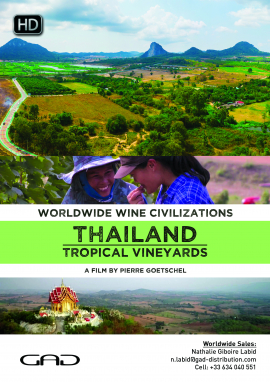 Director(s): Pierre Goetschel • Producer(s): Grand Angle Productions • Coproducer(s): ARTE, Viewcom • Format(s): HD
In Thailand, far from heavenly beaches and tourist clichés, a surprising landscape appeared, less than twenty years ago: vineyards.
But in the tropics, the vines can lose their bearings. Today, a handful of daring producers is pushing the limits of what is possible: adapting their vines and wines to Thailand's heat and moisture.
North of Bangkok, in the Khao Yai mountain range, the Loohitnavy family has embarked on a crazy gamble: to produce wines whose fame will eventually go beyond Thailand's borders.
Please register to screen the entire program and add it to your collection